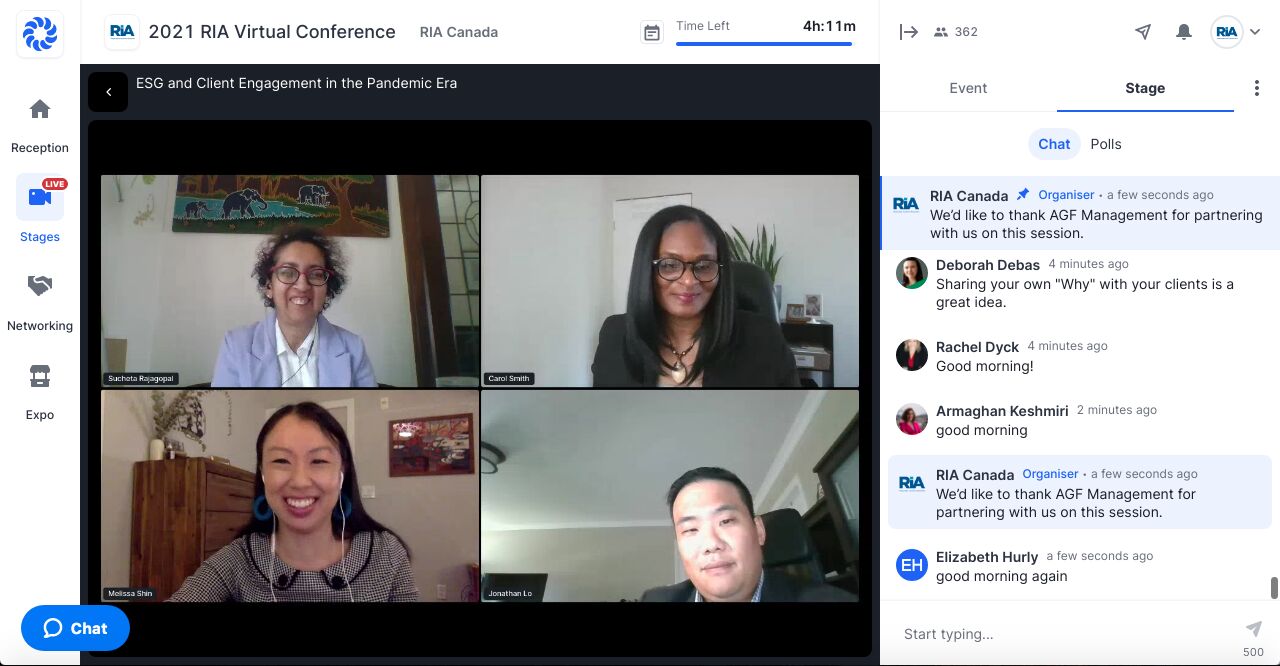 Speakers:
Jonathan Lo, VP and Client Portfolio Manager, AGF Investment Management
Sucheta Rajagopal, Portfolio Manager, Research Capital Corp.
Carol Smith, Financial Advisor, Desjardins Financial Security Independent Network
Melissa Shin, Editorial Director, Advisor's Edge & Investment Executive
During the COVID-19 pandemic, retail clients have become much more keen to learn about the "S" in environmental, social and governance (ESG) issues.
Previously, clients didn't pay as much attention to the social aspect of ESG, but "it really came to the forefront last year," said Sucheta Rajagopal, Portfolio Manager of Research Capital Corp. at the final day of the RIA conference. People became much more invested in the ESG-related stories they were reading or hearing in the news.
For instance, when Empire Co., owner of Sobey's, Foodland and FreshCo, brought back a wage bump to its employees known as "hero pay," clients started talking about investing in the company.
"[Clients] were connecting what's going on in their life with publicly traded companies that may or may not be in their portfolio to an extent that I had not seen before on the social side," Rajagopal said.
Carol Smith, Financial Advisor at Desjardins Financial Security Independent Network, noticed the same thing with her clients.
"The pandemic definitely opened up a lot of dialogue and everybody was sort of in their feelings. Everyone was very vulnerable. And there was just a lot of really good communication," Smith said.
She had quite a few conversations with clients about social issues and topics like net zero, and even hosted a couple of webinars. Advisors should take this as a sign that clients are more eager than ever to discuss ESG topics.
Both Rajagopal and Smith also said they had more prospective clients reach out because of their RI specialties, and they also received more referrals from their existing client base.
"In 2020, I had several people actually approaching me about RI. My experience in the past seven years plus was that people weren't approaching me about RI. It was something that I had done as my process," said Smith.
The composition of her book is now changing because of her increased focus. "My mainstream investments are shrinking and my RI holdings are growing," she said.
Both Smith and Rajagopal noted in the session that younger clients are particularly intrigued about ESG and may be seeking advisors with an RI specialty. Additionally, Smith and Rajagopal noted that their RI clients are considered "sticky," regardless of age.
"We're going to see trillions of dollars moving from one generation to a newer generation and I would say that the younger generation is definitely much more concerned. They view some form of socially responsible investing as table stakes. They have very few problems choosing me," Rajagopal said.
"And because your clients are with you for more than the returns, when you have a tough year in the market, you've got these other stories that you can point to around values alignment and why they're holding certain companies. It's very encouraging. It gives you something to talk about and it gives clients a reason to hang in."
On the asset management front, "the expectations of asset managers have really changed," said Jonathan Lo, VP and Client Portfolio Manager of AGF Investment Management.
"It's really evolved from just the single question of, 'do you consider ESG?' to a series of questions around how we do that, how we engage and how we measure impact, etc."
Going forward, Lo predicts a proliferation of products in the market.
"With inflows so strong in the space and so many commitments to integrate ESG, asset managers have responded with a lot of products. There are a lot of portfolios out there making some claim to ESG and sustainability and the space has become a lot more competitive."
This will likely call for greater education so industry professionals and clients alike can distinguish between products.