Canada's recent development of a green and transition finance taxonomy is part of a rapidly evolving global landscape. There is growing recognition by many jurisdictions of the need for robust classification frameworks as a means to address the challenges of financing the transition to a more sustainable economy. By providing clear definitions and technical thresholds, taxonomies are a tool to prevent greenwashing and enable investors to make informed decisions that realistically consider the sustainable growth prospects of an economic activity.
Canada's Taxonomy
Leading Canada's taxonomy development is the Sustainable Finance Action Council (SFAC), an advisory body convened by the federal government whose members include 25 of Canada's largest institutions in the banking, pension and insurance industries. In March of this year, the SFAC released its Taxonomy Roadmap Report to the public. Under the report's proposed framework, an economic activity can be taxonomy-eligible either as "green" or "transition," – the specific requirements of which will be determined by science-based screening criteria and emissions thresholds. Issuing companies must also have company-level net-zero targets, transition plans and climate disclosures in line with emerging domestic regulatory requirements and international best practices in order to be taxonomy-eligible. The green category encompasses projects with low or zero Scope 1, 2 and 3 emissions that are expected to experience a significant growth in demand in the global low-carbon transition, such as green hydrogen production and zero-emissions vehicle manufacturing. The transition category includes projects with well-defined lifespans, seeking to decarbonize sectors that historically have high Scope 1, 2 or 3 emissions. Examples of transition activities could include carbon capture, utilization and storage upgrades to existing oil sands production as well as the electrification of steel production.
Having the transition category in Canada's taxonomy is particularly helpful given the local economy's heavy reliance on natural resources . In 2023, the oil and gas sector made up 7.2% or $168.2 billion of Canada's nominal GDP while accounting for 27% of its total greenhouse gas emissions. The oil and gas sector employs 593,000 people and the steel sector employs 123,000. The transition category within the taxonomy acknowledges the importance of incentivizing the decarbonization and shift toward greener technologies, practices and business models within these industries, while maintaining economic stability and job security to ensure a just transition to a low-carbon economy.
Opportunities for Investors
Despite not being legally binding, the standardized framework of the taxonomy is expected to bring about new and exciting opportunities for investors.
The taxonomy will encourage companies to disclose the environmental impacts of their businesses and products in a more effective manner. Referencing the taxonomy's science-based criteria and emission thresholds, investors can more readily assess the sustainability impacts of an investment and companies' business activities. This will create new opportunities for institutional investors to conduct taxonomy-focused stewardship to systematically address issuers' sustainability issues . The taxonomy will also provide investors with opportunities to contextualize reported financed emissions through taxonomy-related ratios at the firm and/or fund level.
Most importantly, the taxonomy will provide a clear and standardized framework for Canadian issuers to consider issuing labeled (i.e., green and/or transition) bonds under a structure that will prevent accusations of greenwashing, incentivizing more development of green financial products. Overall, the enhanced transparency, credibility and accountability in the financial market brought by the taxonomy is expected to increase investor demand for green financial products, such as green bonds and sustainability-labeled funds, leading to the growth of sustainable investment opportunities in Canada.
Green bond issuance as a percentage of total bond issuance by all issuers and each type of bond issuer in the EU, 2014-2022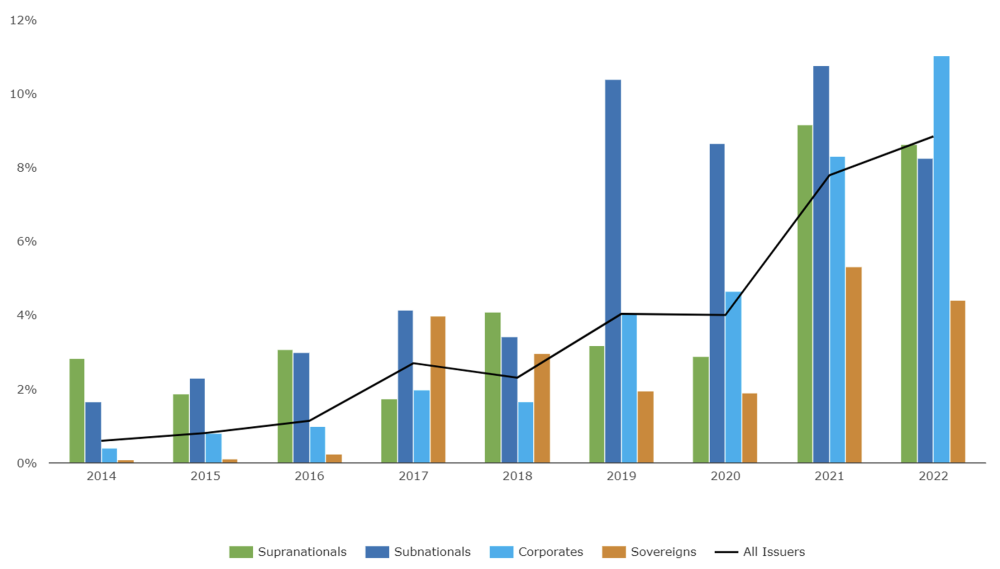 Source: European Environment Agency, June 14, 2023.
Since the EU Taxonomy was implemented in mid-2020 as part of the European Green Deal – a set of policies designed to help Europe reach its climate targets by 2030 and become the first climate-neutral continent – the EU has seen a rapid increase in green bond issuances. Total bonds issued increased from 4% in 2019 to 7.8% in 2021 and 8.9% in 2022. Corporate green bonds in particular have increased from 4.1% of total corporate bonds issued in 2019 to 11.0% in 2022. While this rapid growth could be attributed to many factors within the European Green Deal, the EU Taxonomy undeniably plays a part in the EU's sustainability efforts.
To examine how investments can align with the Canadian taxonomy, below is a sample four-step framework for fixed income investors to determine whether a corporate or sovereign bond is green- or transition-eligible under the taxonomy:
1) Evaluate the issuer's company-level climate strategy to determine whether it has net-zero targets, transition plans and climate disclosures in place that are in line with current domestic regulatory requirements and international best practices.

2) Assess the issuer's green/transition bond framework against existing industry standards, such as the International Capital Market Association Green Bond Principles and the Climate Bond Initiative.

3) Analyze the underlying projects that will be financed through the bond proceeds to determine whether the projects meet the green or transition eligibility requirements, following science-based criteria and strict emission thresholds under the taxonomy.

4) Assess the underlying projects that will be financed through the bond proceeds against the "do no significant harm" criteria to ensure alignment with existing Canadian law (e.g. environment, labour and Indigenous rights).
Conclusion
Reaching Canada's net-zero emissions targets will require substantial investment from both the public and private sectors. In order for Canada to achieve net-zero emissions by 2050, it has been estimated that annual investment will need to grow from $15-$25 billion per year to $125-$140 billion per year. The taxonomy is expected to provide new opportunities for investors to mobilize and align capital in ways that promote transparency, credibility and accountability in the sustainable finance space and support Canada's transition to a low-carbon economy.
Contributor Disclaimer
The information contained herein is for information purposes only. The information has been drawn from sources believed to be reliable. Graphs and charts are used for illustrative purposes only and do not reflect future values or future performance of any investment. The information does not provide financial, legal, tax or investment advice. Particular investment, tax or trading strategies should be evaluated relative to each individual's objectives and risk tolerance.
This material is not an offer to any person in any jurisdiction where unlawful or unauthorized. These materials have not been reviewed by and are not registered with any securities or other regulatory authority in jurisdictions where we operate.
Any general discussion or opinions contained within these materials regarding securities or market conditions represent our view or the view of the source cited. Unless otherwise indicated, such view is as of the date noted and is subject to change. Information about the portfolio holdings, asset allocation or diversification is historical and is subject to change.
This document may contain forward-looking statements ("FLS"). FLS reflect current expectations and projections about future events and/or outcomes based on data currently available. Such expectations and projections may be incorrect in the future as events which were not anticipated or considered in their formulation may occur and lead to results that differ materially from those expressed or implied. FLS are not guarantees of future performance and reliance on FLS should be avoided.
The statements and opinions contained herein are those of Kate Tong and John Mchughan and do not necessarily reflect the opinions of, and are not specifically endorsed by, TD Asset Management Inc.
RIA Disclaimer
The views and opinions expressed in this article are solely those of the authors and do not necessarily reflect the view or position of the Responsible Investment Association (RIA). The RIA does not endorse, recommend, or guarantee any of the claims made by the authors. This article is intended as general information and not investment advice. We recommend consulting with a qualified advisor or investment professional prior to making any investment or investment-related decision.