Over the past two decades, renewable energy and the electrification of transportation, specifically electric vehicles, have been significant recipients of investor capital. This trend towards low-carbon energy alternatives demonstrates no signs of slowing down as societies race against time to reduce carbon footprints. According to BloombergNEF (BNEF)'s recent report [Figure 1], global investment into the low-carbon energy transition reached $755 billion in 2021, marking a 27% increase from 2020. It is expected that this robust appetite for carbon reduction will remain prominent in the minds of both policymakers and investors as 2030/2050 Net Zero deadlines inch closer. Net Zero catalyzes a once-in-a-lifetime opportunity for investors. One potentially promising solution within this sector is carbon capture, utilization, and storage ("CCUS").
Figure 1: Global Investment in Energy Transition by Sector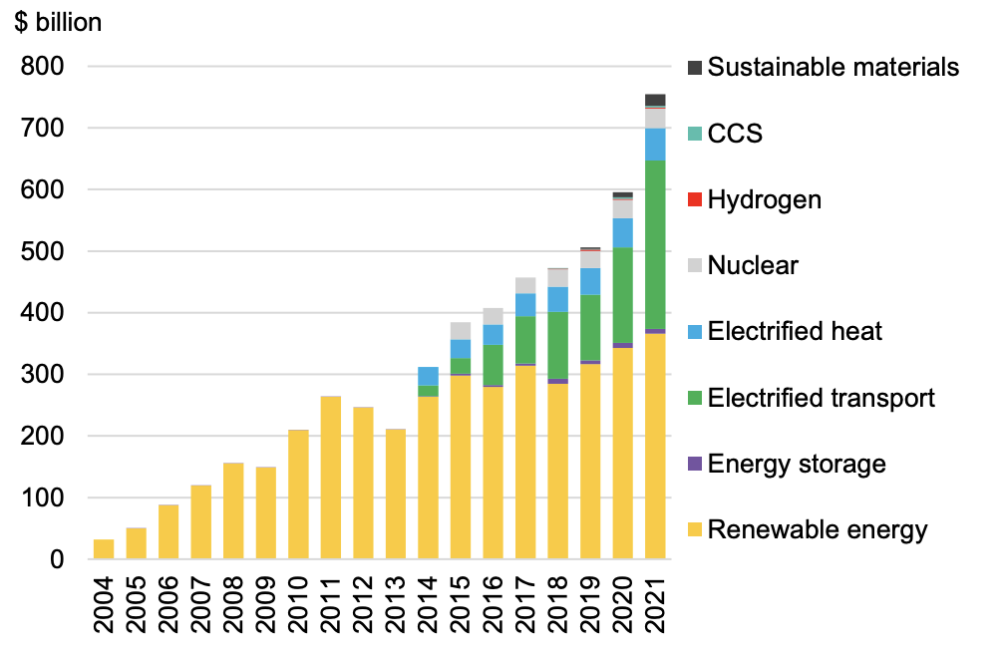 CCUS refers to technologies that capture CO2 from large point sources. Most commonly, these sources are power generation facilities or industrial processes that use fossil fuels or biomass as fuel, such as cement or fertilizer manufacturing facilities. There are also new technologies under CCUS that capture CO2 directly from the atmosphere known as "direct air capture", but these large-scale projects are in their infancy. Some projects aim to inject and store CO2 permanently underground, potentially mitigating the harmful release into the atmosphere. Through CCUS, captured CO2 is used in a range of other applications, such as fertilizers production, greenhouses, water treatment, or used as feedstock in synthetic fuels.
While CCUS has existed since the 1970s, high costs and a lack of economic incentives have hampered its development. However, the future of CCUS is considerably bright given the recent momentum leading to increased development and interest in CCUS in the energy sector. Key drivers of this momentum include a boom in the number of net zero pledges from both governments and corporations, boosts in investor confidence from related policies, and new emerging business models. Supporters of, and the most experienced players in CCUS technology include some of the world's most active emitters of CO2 – energy producers, with a growing number embracing CCUS as a critical component of their low-carbon transition plans.
CCUS Collaborations
The Pathways Alliance, a coalition of Canada's six largest oil sands producers representing 95% of Canada's oil sands production, are actively collaborating to achieve Net Zero by 2050 to eliminate 22 million tonnes of emissions by 2030 via a $24-billion investment in carbon capture and storage facilities. Similar coalitions have formed south of the border as well, such as the Houston Carbon Capture & Storage Alliance (CCS) and Washington D. C's Carbon Capture Coalition, a nonpartisan collaboration of more than 100 companies, unions, conservation, and environmental policy organizations, building federal policy support to the deployment of carbon management technologies.
Growth Potential
CCUS also presents significant potential for economic growth as noted by the Houston Carbon Capture & Storage Alliance, which estimates that private investment could be upwards of USD 60 billion and see the creation of more than 18,000 project jobs annually in the state of Texas alone. With the growing acceptance of CCUS technology, energy participants have shifted gears from lobbyists against climate change to champions of Net Zero, highlighting that CCUS is a viable opportunity to secure energy and industrial needs while reducing CO2.
Canadian and US Governmental Support
Activity in the space has also increased with policymakers around the world recently earmarking close to USD $18 billion towards CCUS development and deployment. To date, Canada and the US remain among the most active in support of CCUS. Together, the US and Canada represent 65% of global carbon capture capacity, and new targeted policies signal positive incentives for the development and deployment of CCUS. Positive tailwinds for CCUS include the United States Inflation Reduction Act (IRA) which provides substantial incentives for CCUS projects by expanding the amount of credit (double for power and industrial plants and triple for direct air capture) and extending the deadlines of qualification by 7 years to 2033.
Meanwhile, through the US Infrastructure Investment and Jobs Act, about USD $12 billion will be offered to the CCUS value chain in the form of research and development (R&D) funding, loans, and support in permitting. In Canada, the federal government has proposed a refundable investment tax credit for CCUS projects valued at CAD $2.6 billion between 2022 and 2030. In addition, CAD $319 million will be invested in R&D to advance the commercial viability of CCUS through the federal budget 2021. Furthermore, recent commentary by Canadian politicians, express a near-term desire to increase the Canadian tax credits to match those of the US, likely expediting and broadening the potential for CCUS project development.
Figure 2: Commercial-Scale CO2 Capture Projects in Development
Figure 3: Potential Project Spending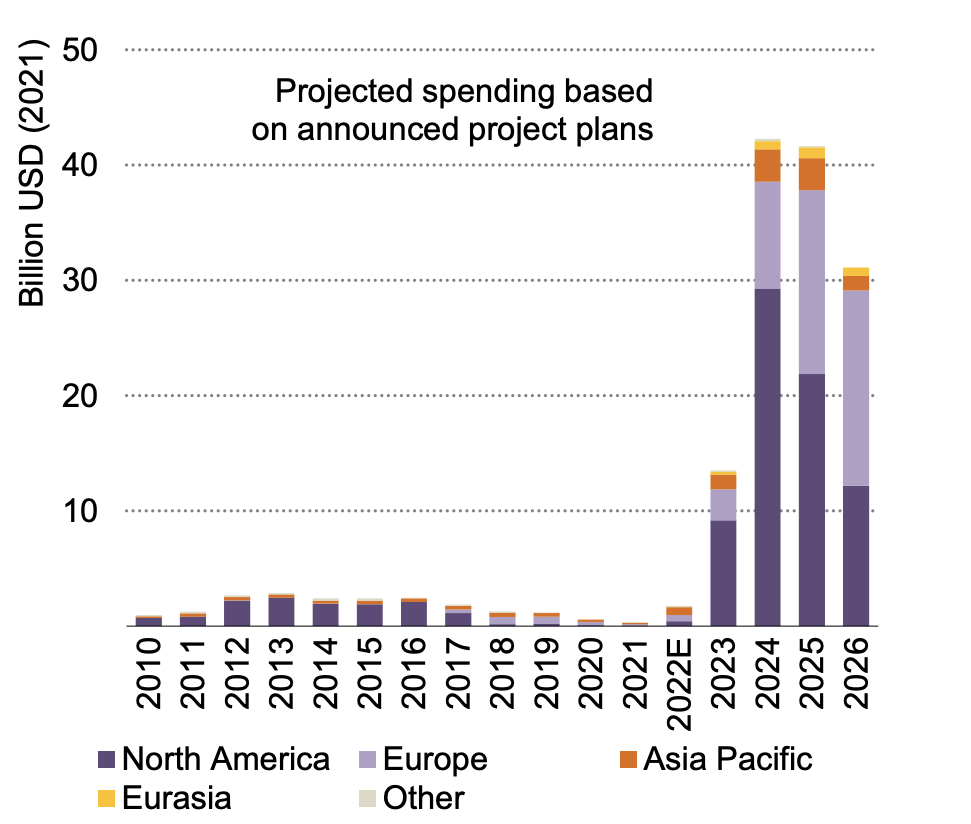 According to IEA's report World Energy Investment 2022, there are now over 300 projects in various stages across the CCUS value chain across the globe [Figure 2]. Strong legislative policy tailwinds and support from both public and private market participants have set the stage for CCUS to be among the most advocated technologies in the fight against climate change. As the world ushers in a new era of decarbonization, all eyes are on the potential of CCUS, allowing investors an avenue to further diversify their energy portfolios beyond, and in addition to, renewable energy and electrified transportation.
---
RIA Disclaimer
The views and opinions expressed in this article are solely those of the authors and do not necessarily reflect the view or position of the Responsible Investment Association (RIA). The RIA does not endorse, recommend, or guarantee any of the claims made by the authors. This article is intended as general information and not investment advice. We recommend consulting with a qualified advisor or investment professional prior to making any investment or investment-related decision.