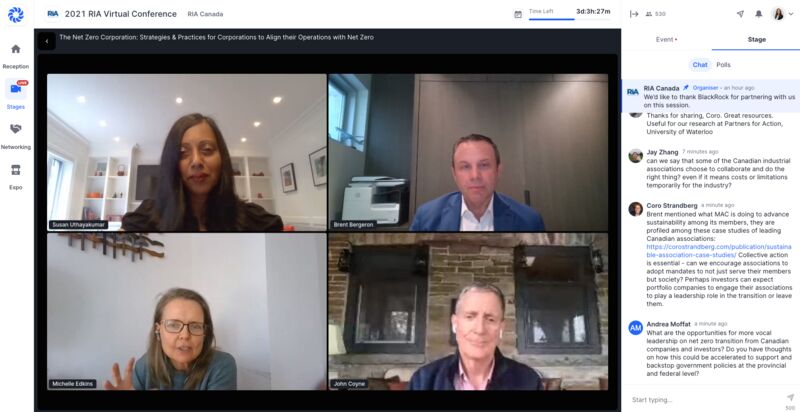 Speakers:
Brent Bergeron, Senior Vice President, Corporate Affairs and Sustainability, Pan American Silver Corp.
Susan Uthayakumar, President, Sustainability Business Division, Schneider Electric
John Coyne, Vice-President External Affairs and Sustainability, Unilever Canada
Michelle Edkins, Managing Director, Investment Stewardship, BlackRock
To halt climate change and prevent further catastrophe, it's imperative to limit the average global temperature rise to no more than 1.5 degrees celsius above pre-industrial levels.
That's why both the public and private sector are working towards net zero emissions by the year 2050.
Corporations are a key part of this transition, and every company must do its part, said Michelle Edkins, Managing Director of Investment Stewardship at BlackRock, while speaking with panelists Brent Bergeron, Senior Vice President of Corporate Affairs and Sustainability at Pan American Silver Corp., Susan Uthayakumar, President of the Sustainability Business Division at Schneider Electric, and John Coyne, Vice-President of External Affairs and Sustainability at Unilever Canada, at the RIA conference session "The Net Zero Corporation: Strategies and Practices for Corporations to Align their Operations with Net Zero."
"[Sustainability] cannot be a parallel initiative within the corporation," Uthayakumar said. "It has to be driven from the top with full conviction and full investment to drive the right decision."
If companies use less resources, they will, by default, have lower emissions and greater profitability. It's been proven that companies who operate sustainably have better margins and customer satisfaction, she added.
Schneider Electric sets an ambition and measures against that ambition every quarter. The company reports results publicly to keep themselves accountable and encourage and influence others in the industry to do the same.
"Today, sustainability is not a nice to have," Uthayakumar said. "It's a must because there is  brand reputation at stake. Your stakeholders — whether they're investors, employees or customers — demand it."
Collaboration is key
When it comes to achieving net zero, all stakeholders, governments, companies, and communities are driven by the same objective.
"We want to be able to improve the way we are moving toward decarbonization and toward net zero. We have to do this together," Bergeron said.
Policy needs to work alongside company efforts to enable new technologies and sustainability objectives, he added.
"Climate change is a global issue and it requires a global solution by the private sector and public sector, hand-in-hand." Uthayakumar said.
Schneider Electric, for instance, has been working with a number of administrations, such as the U.S. and Canadian governments to discuss how to accelerate the transition to net zero.
In the discussion, Coyne proposed that it's actually up to the private sector to call for more action from the public sector.
"Climate change and the transition to a zero carbon economic and environmental structure can't be brought to us by operating in the way we've operated up to this point," Coyne said.
"The private sector needs to demand what policy makers should put forward as the right kind of policies to help workers, to help develop innovation, and to help companies with new products and new services."
If we don't put in stronger input, we can't expect changes because they don't know what we know, he added.
Material risk versus opportunity
During the live poll, audience members were asked if the energy transition is a material risk, an opportunity or both. The vast majority (81.6%) said both.

Audience poll
Coyne asked everyone to rethink the framing of the question, noting that it's always positioned as opportunity versus risk when that's not exactly the case.
"The problem that we've got isn't that it's either an opportunity or a risk," he said. "This transition is either inevitable or we fail."