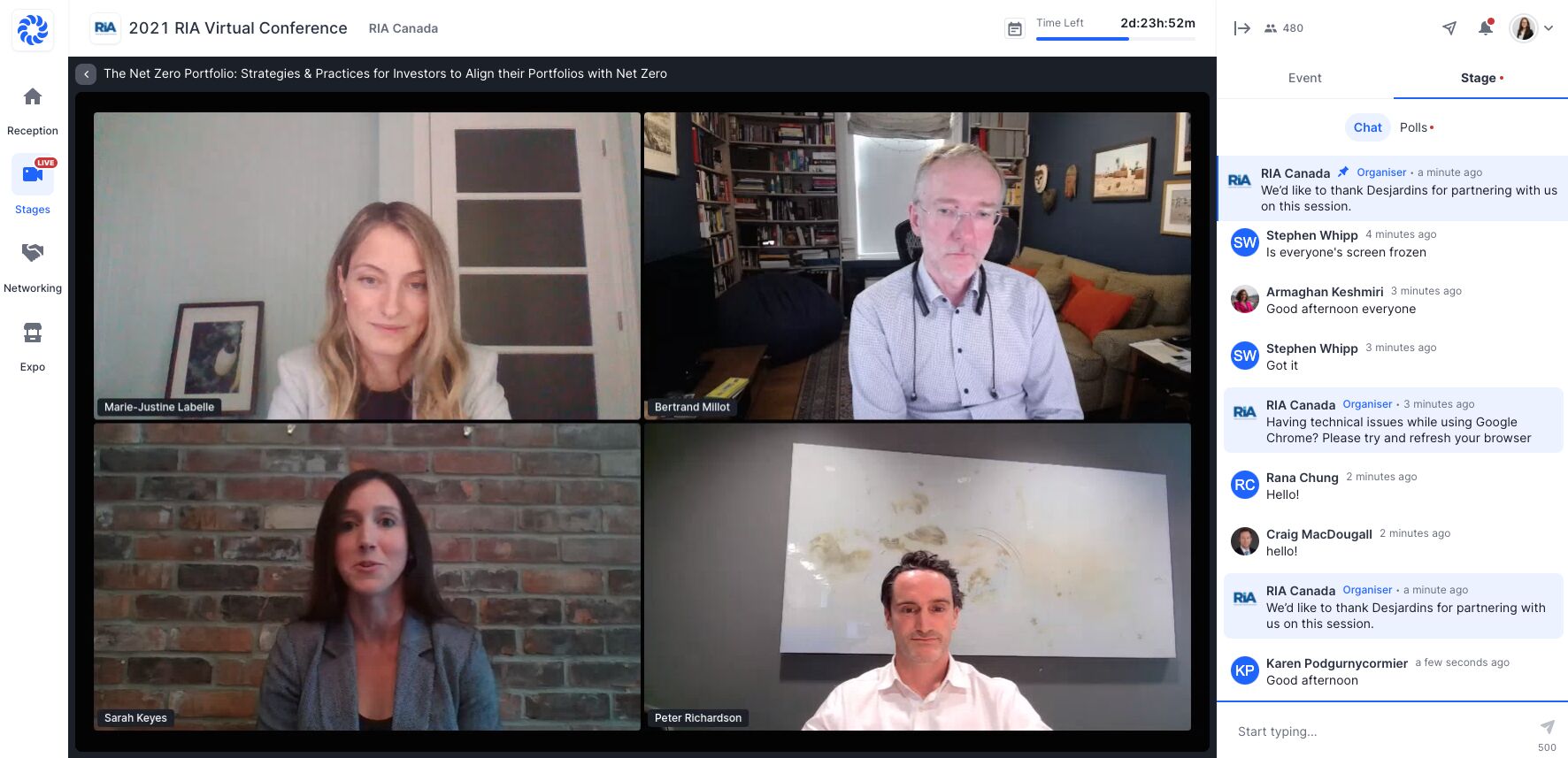 Speakers:
Bertrand Millot, Head of Climate Risk and Issues, CDPQ
Sarah Keyes, Principal, ESG Global Advisors
Peter Richardson, Climate Strategist, Manifest Climate
Marie-Justine Labelle, Head of Responsible Investment, Desjardins Investments
There's a growing impetus for investors to set and achieve targets that are going to lead them to net zero portfolios by 2050. In the meantime, investors are setting interim targets to measure and report on their progress.
During the conference session, "The Net Zero Portfolio: Strategies and Practices for Investors to Align their Portfolios with Net Zero," moderator Sarah Keyes, Principal at ESG Global Advisors, dove into a discussion of opportunities and challenges of transitioning investors' portfolios to net zero.
"Ultimately net zero emissions are achieved when greenhouse gases (GHG) that are emitted into the atmosphere are balanced by an equal number of GHG removals," said Keyes, using the Intergovernmental Panel on Climate Change's definition of net zero.
There are three key elements when it comes to transitioning to net zero. "Choosing the right tool for the job, understanding the difference between leading and lagging indicators, and knowing how to tell the most effective story," said Peter Richardson, Climate Strategist at Manifest Climate.
"If you're driving a car and can look out the rear-view window, that's a lagging indicator because it's what's been going on in the past. Looking out the windshield is a leading indicator. Historically, we've been driving along, looking in the rear view mirror. . . But, thanks to folks, like some of the folks on this webinar, we're starting to see leading indicators, like the establishment of plans, the link between executive compensation and financial performance, and meaningful engagement at all levels."
Engagement top priority for reaching net zero
During the session, most audience members agreed during a live poll that engagement with portfolio companies on decarbonization pathways was important for investors in achieving net zero, followed by engagement with industry sectors to develop GHG emission reduction solutions.

Audience poll
"Engagement is a critical tool. We need to understand where companies are going from a strategy point of view. We need to know what companies are thinking about and that occurs through engagement," said Bertrand Millot, Head of Climate Risks and Issues at CDPQ.
"If we feel that a company is not going anywhere fast or anywhere as fast as we want to go, then we make decisions."
Marie-Justine Labelle, Head of Responsible Investments at Desjardins Investments, added: "Not all engagement is created equal." Engagement has to be strategic and go beyond ticking a box.
When it comes to using carbon offsets to reduce portfolio emissions, the audience voted this as the least important tactic, and the panelists agreed.
"Buying the right to emit from somebody else does not reduce anything at the planetary level and should be avoided. It is the cheap way out. Buying offsets that are certified is better today but I think where we're going collectively is a world where carbon capture and sequestration, whether it is through natural solutions or industrial solutions, will be certified properly, Millot said.
"Carbon offsets might have a role in a certain situation at a certain point in time, but it's a slippery slope if presented as something that's equal to the reduction of emissions," Labelle added.
Retail clients want to know more
Financial advisors have an opportunity to bridge a knowledge gap, especially as retail investors are increasingly interested in ESG and net zero.
"When we talk to retail investors, they want to hear about this. We even hear them say they're a bit frustrated that they're not hearing about it [from their advisors] and they're not bringing up this conversation themselves," Labelle said.
Her advice: "Be transparent about the state of things, and what each product is doing, what it's not doing, and what it's trying to achieve."