With seismic corporate shake-ups like the Google walkout, Starbucks shutdown, and Paul Weiss exposé, diversity & inclusion (D&I) skyrocketed to become a top priority for the private sector in 2018. Attention to D&I has fluctuated in and out of focus for decades but new levels of transparency and accountability, brought on by social media, have firmly secured it as a business must-have.
To reflect this cultural shift, publicly traded Canadian companies will now be required to report on representation of women, Aboriginal persons, visible minorities, and individuals with disabilities in senior management and on boards.
The new regulations are designed to help organizations surface and address bias in their processes and unlock the performance benefits associated with having diverse employees and inclusive culture. This data can also serve as a powerful resource for investors looking to double-down on corporate D&I leaders. While the business case for D&I has been made over and over, new data paints an even more compelling picture:
To comply with the new legislation, all Canadian businesses will need to adopt a robust way of collecting and analyzing their employee data. At Diversio, we use technology to streamline this process. We also use machine learning to identify specific problems and tactical solutions.
Diversity and inclusion is a journey – every company has its own strengths and weaknesses. In our experience, progress can be accelerated and sustained through four steps:
Diagnose problems: Step one is to collect data and create a baseline. Privacy and anonymity are key. In our experience, employees are up to three times as likely to identify as part of a minority group if they feel secure and anonymous. They are also more likely to be honest about their day-to-day experience.
Benchmark performance: The next step is to compare a company to its peers. Granularity is critical. Effective companies look at diversity by role (e.g., entry level, director, executive) rather than top-line numbers. They also compare inclusion metrics, such as access to networks, flexible work, and absence of
Identify solutions: The unfortunate reality is that most programs and policies designed to promote diversity simply don't work. Too many companies waste resources implementing ad hoc programming without evidence to support effectiveness. This is where predictive analytics is changing the game. Diversio's machine learning technology uses a company's baseline data to identify solutions that are most likely to succeed in their environment.
Track progress: Diversity and inclusion must be treated as a business priority, including tracking and accountability. Not only does this build momentum, it ensures that resources are wisely spent – especially when progress is tied to bottom-line performance.
To illustrate the types of challenges faced by industries under heaviest public scrutiny, we aggregated data for more than 60 of our banking, asset management, venture capital, and tech-sector clients based in Toronto. While many companies seem diverse from a birds-eye view, a deeper-dive shows that women and minorities are underrepresented in leadership.
Exhibit A: Representation of women, ethnic minorities and persons with a disability in Finance and IT sectors (Toronto)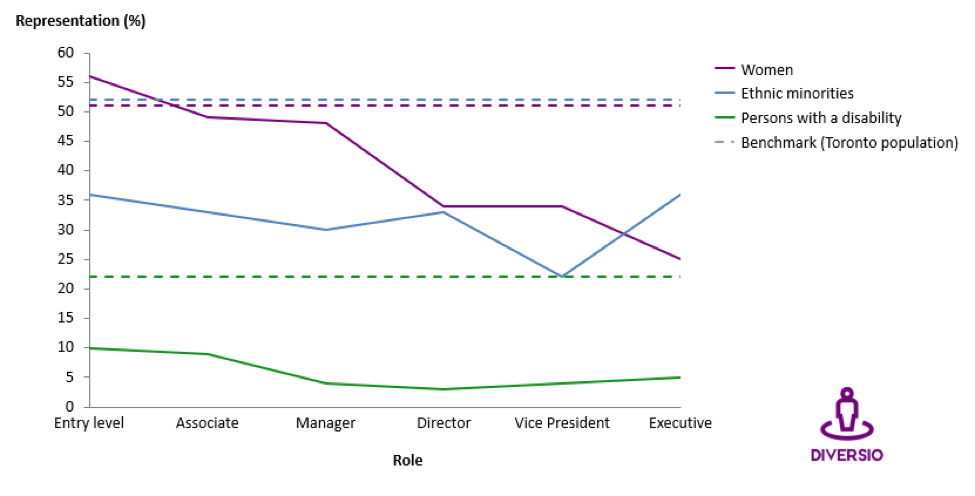 While there has been a growing focus on gender diversity, there is less attention to ethnic, racial and cultural minorities, persons with a disability, the LGBTQ2+ community and socioeconomic backgrounds. Diversity data of all kinds should be collected and tracked.
It is equally important to collect and track inclusion data. Our team does this by analyzing employee engagement data through six metrics that are demonstrated inclusion drivers. These metrics are aggregated into a company's Inclusion Score, which our clients track over time.
Exhibit B shows aggregated findings on employee experience from our sample set. It is important to note that these companies are "early adopters" of inclusion technology and may not be representative of the broader industry.
For this particular sample set, we discovered that exclusion from professional networks and low flexibility and biased feedback were the biggest barriers faced by women and minorities. Nearly twice as many women as men score their employers high for harassment. This is an even greater problem for individuals with disabilities, with nearly one-quarter reporting harassment in their organizations.
While harassment may be the most egregious form of bias and discrimination, women and minorities experience other obstacles as well. For example, one-third of LGBTQ2+ employees say they don't have the flexibility to meet at-home care obligations, a reflection of the growing number of same-sex parents.
The systemic differences in workplace experience are further exacerbated when intersectionality comes into play. Ethnic minorities with a disability are more than twice as likely as white men without a disability to report receiving biased feedback from their managers. And one in three ethnic minorities with a disability feel that their opinions and contributions are not valued in the office.
Exhibit B: Employee experience of inclusion in Finance and IT sectors (Toronto)
What does this mean for investors?
Investors play a critical role in encouraging their portfolio companies to embrace D&I. More and more investors recognize the benefits of this competitive advantage and go as far as setting internal D&I standards and expectations for their companies. The Women in Technology Venture Fund at BDC Capital, for example, has partnered with Diversio to assess D&I across their portfolio companies. They believe this will provide a benchmark for diversity and inclusion and enhance portfolio company performance.
For investors looking to join the growing roster of industry leaders, we recommend working with your portfolio companies to collect and get smart about employee data. Set targets, identify problem areas, implement informed solutions, and track progress over time.
For investors looking to meet industry standard, we recommend integrating D&I into your ESG strategy and due-diligence process. Ask companies for metrics on their D&I performance, and incorporate this information into your investment decisions.
Across the world, governments and enterprises alike are recognizing the growing importance of moving beyond rhetoric when it comes to diversity and inclusion. Data, metrics, and technology can help investors adapt to this new normal and improve returns in the process.