Excitement. Urgency. Responsibility. This is what you felt if you attended the 2019 RIA Conference in Montréal on April 24th and 25th.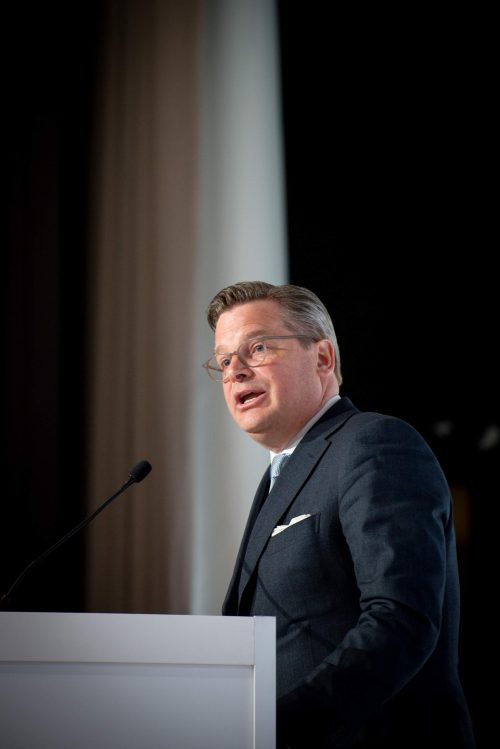 Roger Beauchemin, CEO of Addenda Capital and Vice-chair of the RIA's Board of Directors, put it very simply in his opening address; the growing attendance, with a record 570 registrants and over 100 more on the waiting list, is a testament to how salient responsible investing has become – not only for financial market participants in Canada, but for us all. "I hope that you will leave this conference with a renewed sense of energy and determination to change the world, because together we can, and honestly, together we must."
From climate change governance and women in leadership to artificial intelligence and cannabis, the two-day bilingual event had something for everyone. If you missed out on the largest ESG event in Canada, here is a look at what took place throughout the plenary sessions.
2019 RIA Conference Day 1
Artificial Intelligence: Responsible Disruption?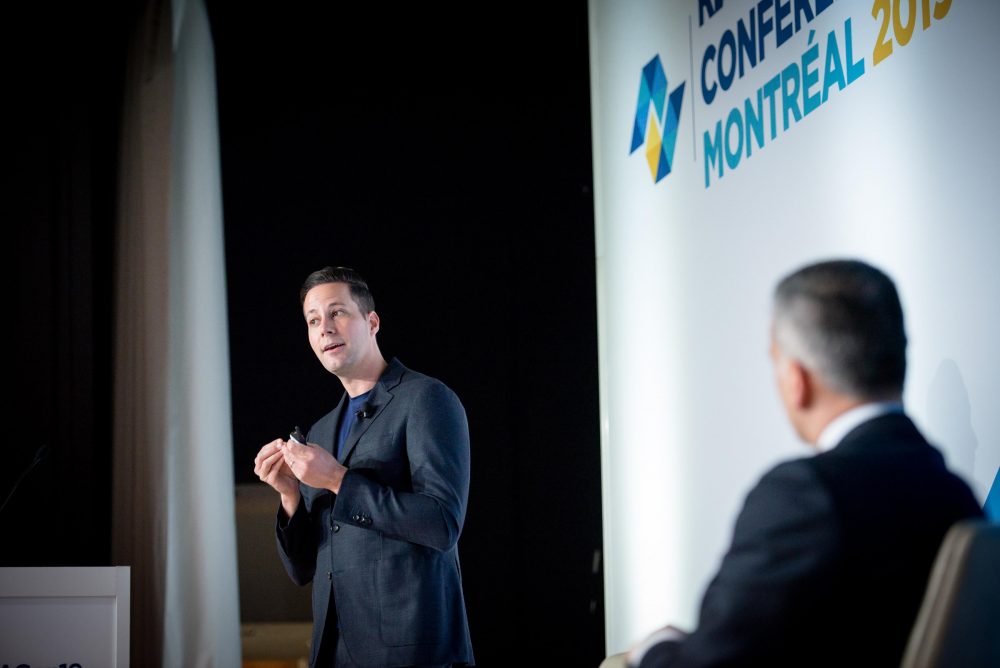 It seems as though new applications for artificial intelligence (AI) are rolling out on a daily basis, transforming our work tasks and presenting us with an abundance of questions. How do we ensure that data is used responsibly? How will AI affect our workforce, and what does a socially inclusive transition look like? Chadi Habib, Executive Vice President of Information Technology at Desjardins Group, joined David Beauchemin, Cloud Lead for Eastern Canada at Google, to demystify what AI really means and where it's headed. Whether we like it or not, the revolution is here: an estimated 75% of business applications will use AI by 2021.
However, Mr. Beauchemin emphasized that just because we can apply it, doesn't mean we should – Google follows a principled approach that limits AI to socially beneficial applications, and avoids those that cause harm or infringe on international and human rights.
Keynote – The 'S' in ESG: The Role of Investors in Driving Respect for Human Rights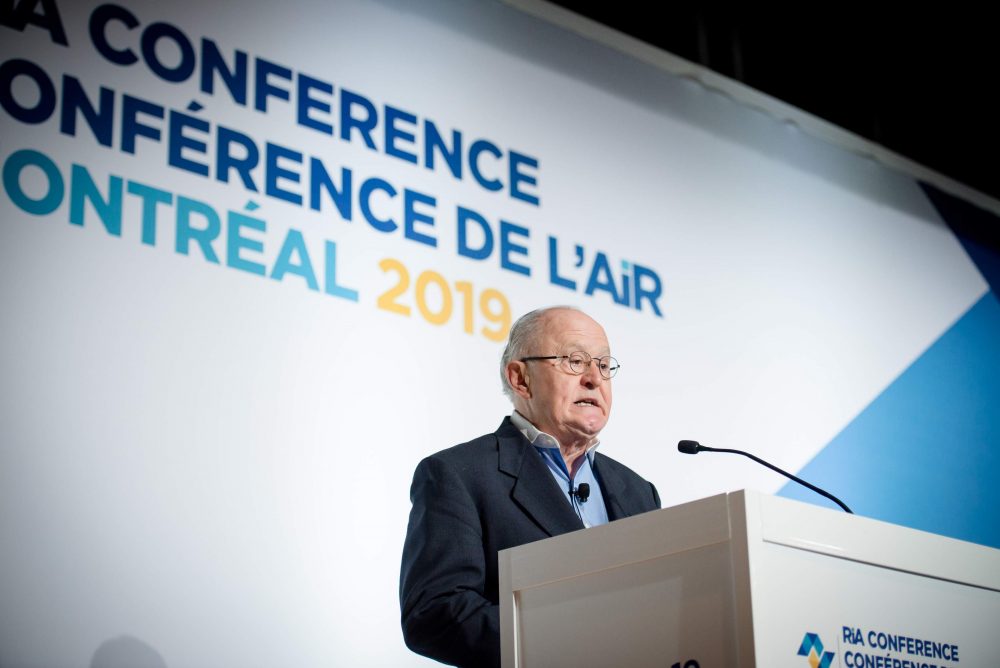 Attendees had the privilege of hearing from Professor John Ruggie of Harvard University, architect of the UN Global Compact and the UN Guiding Principles for Business and Human Rights, in a captivating keynote address. Professor Ruggie touched on three main points: how critically important ESG has become in our extraordinarily turbulent world economy, the urgent need to drive ESG further into the mainstream, and how a more scrupulous look at the human dimension of the 'S' can strengthen consistency of data and confidence in ESG overall. "You cannot fix a problem with the tools that created it. We need new tools – and ESG is such a tool."
SDGs In Action: How Are We Going To Achieve The Sustainable Development Goals?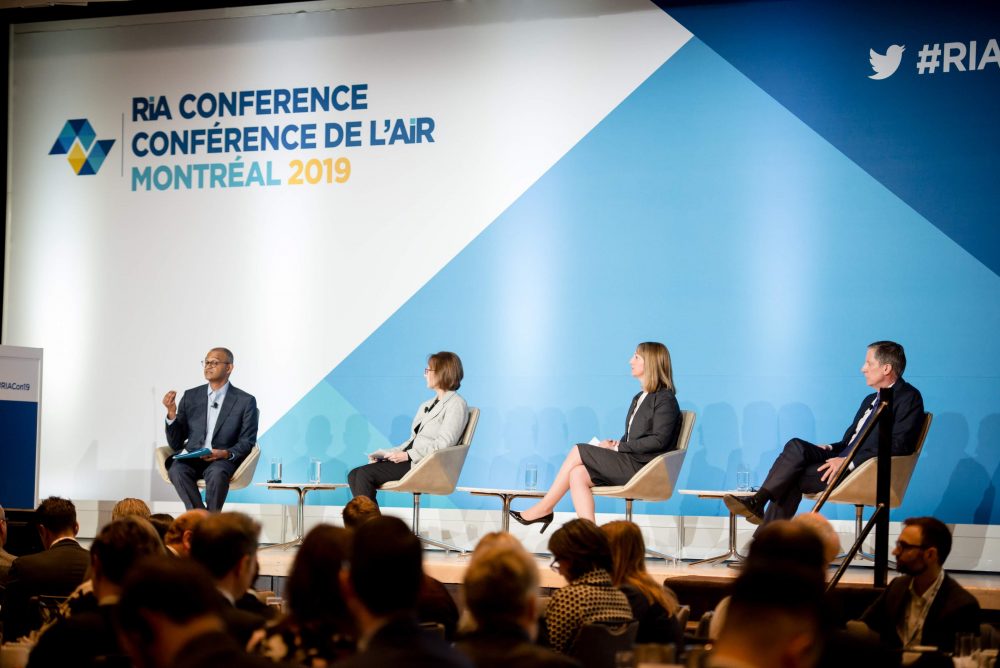 Experts from Unilever, CN Rail, Mercy Investments and Aviso Wealth tackled the question: how can investors and companies work together to achieve the SDGs? Moderator Fred Pinto, Senior Vice President and Head of Asset Management at Aviso Wealth, set the stage with the idea that using the SDGs as a common goal will allow companies to create a framework for building a more sustainable future through new products and services. The benefit is to everyone.
The panel explored the idea that it's not only about achieving the SDGs but also measuring businesses performance within the framework of the SDGs. If the SDGs are the world map of the future of human prosperity, health and well-being, gender equality, environmental resilience, and financial security, businesses need to unlock ways to succeed within them.
Conscious Capitalism Keynote Address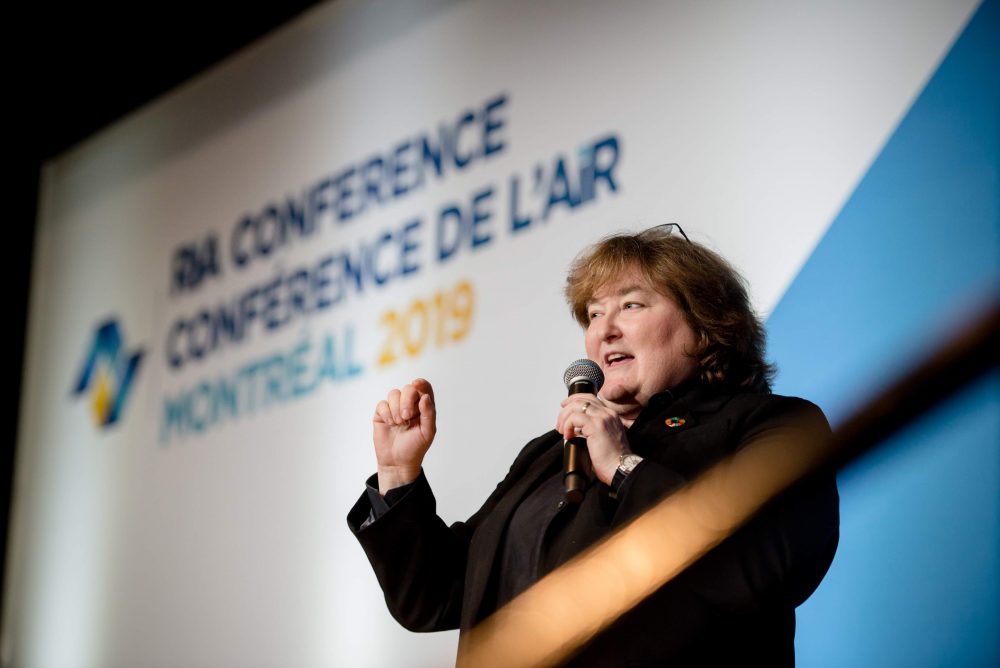 While capitalism remains the best system we've ever known for creating prosperity, the harsh reality is that "capitalism is broken". Negative externalities are difficult to swallow, but can no longer be ignored. In her afternoon keynote address, Erika Karp, Founder and CEO of Cornerstone Capital, grounded the audience with a well-needed conversation about being uncomfortable.
Karp is undoubtedly one of the few people capable of delivering a speech with the perfect balance of candor and light-heartedness. "There are a lot of things that we are very uncomfortable with," said Karp, referring to the many environmental and social challenges we face today. "The key is to grab onto those things and do something about it". Fortunately, we're already seeing strong momentum from different corners of the sustainable finance world: widespread adoption of ESG disclosure standards, social media driving unprecedented transparency and high-speed information exchange, the emergence of powerful data processing and improved data quality, and the largest wealth transfer into the hands of the most socially conscious and purpose-driven generation there has ever been. And this is just the beginning.
Climate Change Governance
Led by Sophie Lemieux, Vice President of Institutional Markets at Fiera Capital, the last session of the day focused on climate change's emergence as a major corporate governance issue for companies. The onus, agreed the panel, which included representatives of pension funds CDPQ and Bâtirente, falls onto board members. They pointed to how tools offer only guidelines, not rules, and it is ultimately up to board members to address climate change risks.
Milestones, like COP21, can be used to guide climate change planning for boards, too, though regulation is needed to create mandatory climate change disclosures. Only then can investors and companies conduct proper analysis and move forward systematically.
2019 RIA Conference Day 2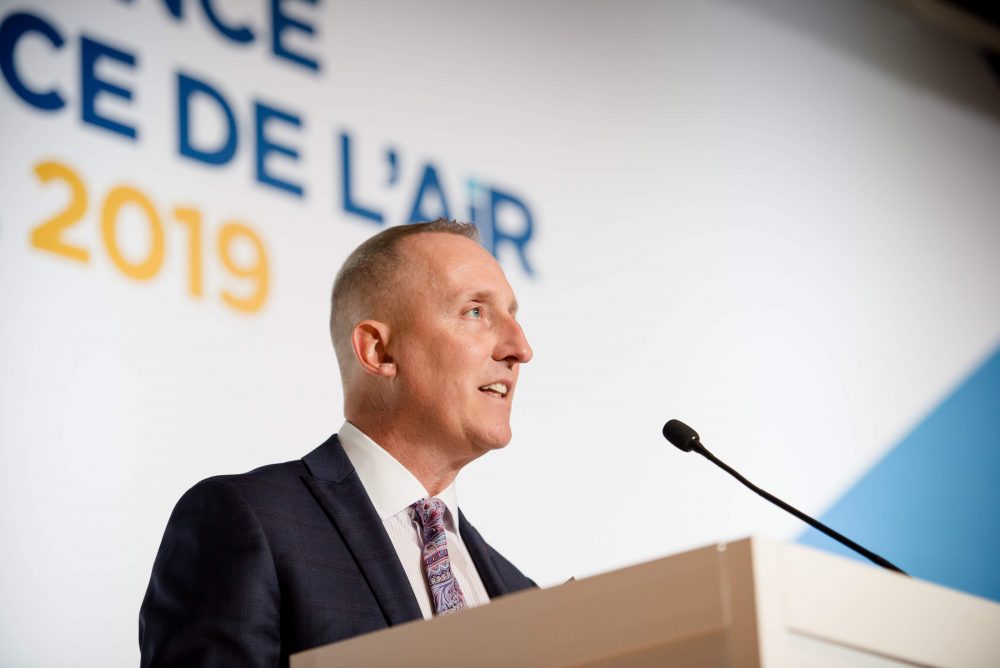 Before diving into another full day of engaging discussions and busy networking breaks, the crowd received some encouraging opening remarks from Luc Fortin, President and CEO of the Montréal Exchange (MX) and Global Head of Trading with TMX Group. Having signed on to the United Nations Sustainable Stock Exchanges (SSE) initiative in February of this year, TMX has shown leadership in promoting sustainability performance and transparency in capital markets.
Education and industry dialogue are top priorities, which is why Mr. Fortin was pleased to announce that TMX had just joined the RIA as its newest Associate Member. "For TMX, collaboration is key and it's the ultimate enabler of success," said Mr. Fortin. "Our clients and stakeholders are our trusted partners in making Canada's markets stronger and more resilient."
The Future of Sustainable Finance in Canada: A Discussion with the Expert Panel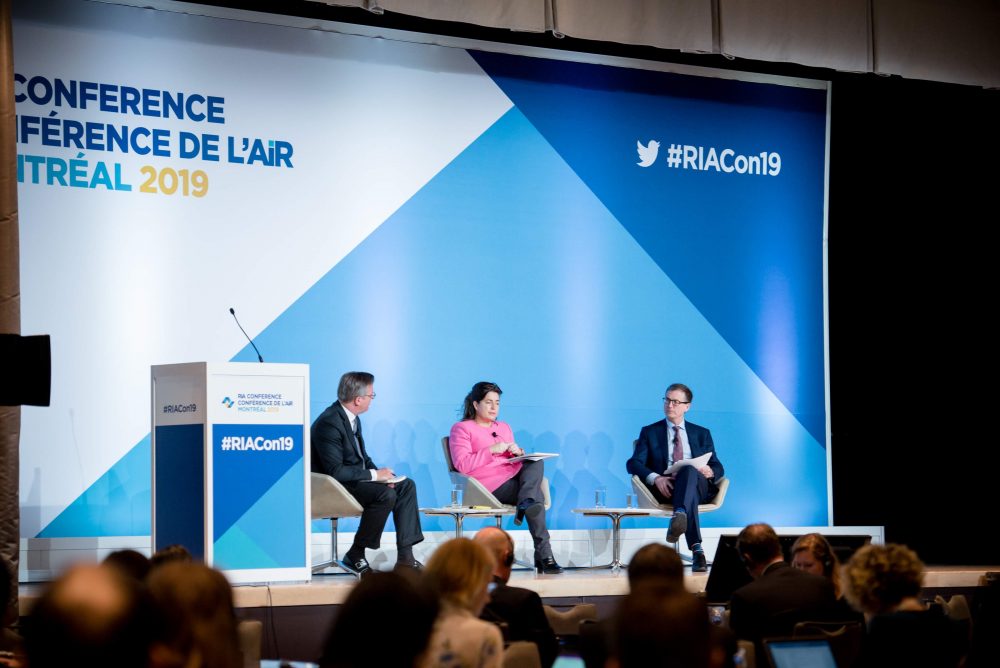 When the Expert Panel on Sustainable Finance set out to engage a multitude of stakeholders on low carbon, clean economic growth in Canada, they expected that not everyone would want to participate. Turns out, Canadians are even more generous than previously thought. Kim Thomassin, Executive Vice-President of Legal Affairs and Secretariat at la Caisse de dépôt et placement du Québec (CDPQ), and Tiff Macklem, Dean of the University of Toronto's Rotman School of Management and ex-senior deputy governor of the Bank of Canada, spoke with Roger Beauchemin, CEO of Addenda Capital, about the Panel's comprehensive consultation and the challenges to Canada's low-carbon transition.
In general, the Canadian public has a hard time seeing sustainability as a financial opportunity, and nearly all roundtable participants brought up the data issues in assessing climate risks. A public-private partnership focused on collecting climate information and developing analytical tools may be part of the solution. The Panel will release their much anticipated final report and recommendations in May.
Going Long on ESG: What's the State of Play, and Where are we Heading?
Many see Michael Jantzi, ESG pioneer and CEO of Sustainalytics, as a community leader within the responsible investment industry. In a compelling speech on the current and future state of ESG, he did exactly what a community leader would do: acknowledge the progress and confront the issues. On the positive side, the ESG long game is probably here to stay. A strong foundation, built by others many decades ago, has translated into amazing growth opportunities.
At the same time, with more opportunity comes more responsibility. "ESG, to this point in time, hasn't been looked at as closely as it's going to be looked at," cautioned Jantzi. The more serious issues, however, bubble beneath the surface. "We are seeing a crumbling of civility in discourse," said Jantzi, referring to increasing politicization and polarization of ESG issues among general populations. "If you believe that [these issues] are important to non-politicize, than we have to get involved."
Managing Human Capital To Enhance Shareholder Value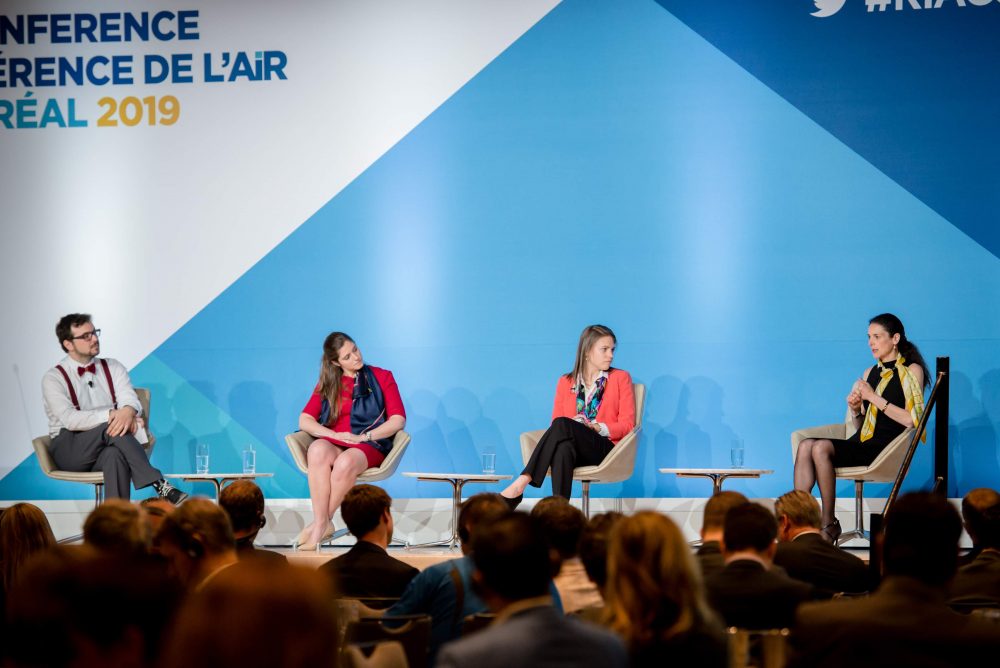 A company is only as good as its people. So how can investors and companies work together to effectively manage people and create more value for employees, management and shareholders? Moderator Olivier Gamache, President of Groupe Investissement Responsable (GIR), was joined by panellists Armelle de Vienne, Senior Associate, ESG analysis at Rockefeller Capital Management, Valérie Cecchini, Vice President and Portfolio Manager at Mackenzie Investments, and Erica Coulombe, Associate at Millani, to discuss the many forms of managing human capital, including hiring practices, employee training, employee well-being and employee retention.
The discussion covered how managing human capital is not a singular challenge, especially when you consider differences across industries and regions. These complexities make it difficult for some companies to create a comprehensive strategy and report results precisely. But the conclusion of the discussion was clear: there is a correlation between effective human capital management and financial performance.
Women In Leadership: How Can Companies And Investors Accelerate Progress On Gender Parity?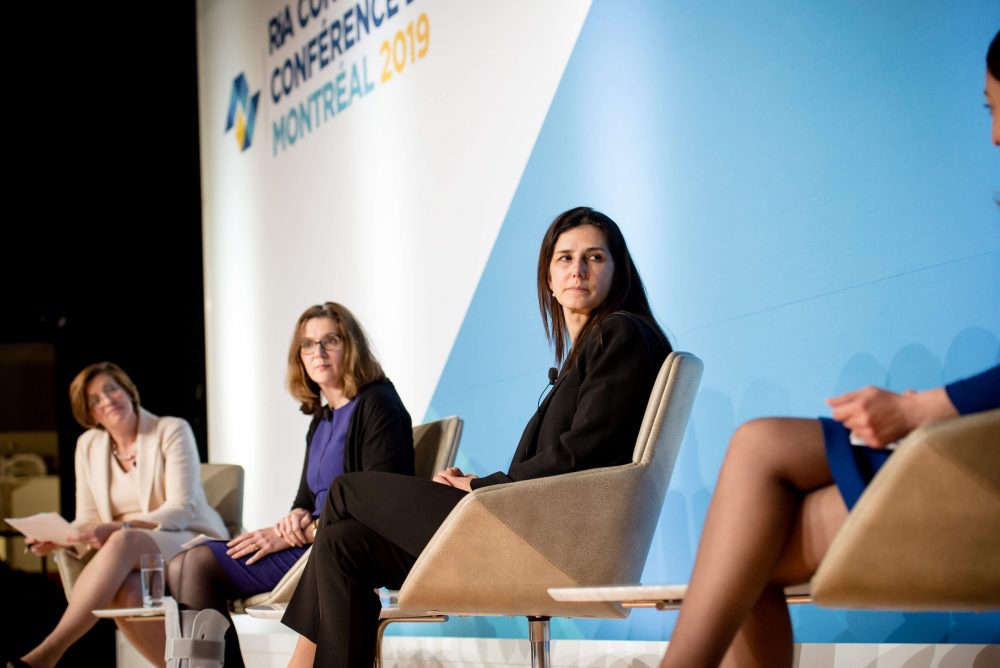 Gender diversity at the board level has stalled in Canada and elsewhere. It's an ESG issue that investors and companies are able to address very effectively, improving leadership and diversity at the highest rungs of the corporate ladder as a result. So, how can we accelerate progress? According to panellists Sherazad Adib, Senior Director at Catalyst, Tina Debos, Senior Consultant, Diversity and Inclusion at Bell, Vicki Bakhshi, Director, Governance and Sustainable Investment at BMO GAM, and moderator Milla Craig, President and CEO of Millani, investors have several tools at their disposal, including:
Introducing board term limits to encourage change
More engagement from investors to encourage company-level diversity goals
Creating mutual funds that focus on gender diversity
Updating legislation that reflects the perspective of investors and companies today
Broadening the qualifications for board positions
And better measurement and disclosure of diversity and inclusion
The Alpha And Beta Of ESG Investing

According to Thierry Roncalli, Head of Quantitative Research at Amundi Asset Management, the time for investors to act is now. We're facing global issues that challenge our economic model, like climate change, and while many investors have welcomed ESG into their investment strategy, others remain hesitant. The most common question for laggards is perhaps the most obvious: what is the link between ESG and performance?
Roncalli suggests the results are mixed. Up until 2014, research showed that ESG may impede performance but more recent data is much more positive, showing a correlation between long term value and positive ESG ratings. Part of the problem is that ESG scores are relative and not absolute, so when comparing them to other indicators, like credit score, they're less consistent.
When investors consider these additional ESG insights, like extra-financial risk and risk management in the long term, there is a strong connection between ESG and performance. Roncalli's concluding message to an audience of several hundred investment professionals: "If we move collectively, we can see that we can move the market."
This is a summary of the 2019 RIA Conference plenary sessions. Conference slide decks and more information on select sessions can be found below:
Next year's RIA Conference will be held in Toronto on June 8-9th. Subscribe here for updates on registration, speakers and more! Subscribe now.

Disclaimer
The views and opinions expressed in this article reflect those of the speakers and do not necessarily reflect the view or position of the Responsible Investment Association (RIA). The RIA does not endorse, recommend, or guarantee any of the claims made by the speakers. This article is intended as general information.