The RIA's most recent survey of over 1,000 investors gives insight into how Canadian retail investors perceive responsible investment (RI) and what they expect from their financial advisors on the topic. In the 2022 survey, we see steady trends around respondents' interest and knowledge of RI—with some concerns shared by the broader RI community, including biodiversity and greenwashing.

Opportunities for financial service providers remain clear
As we have seen for years in this survey, most respondents (73%) would like their financial services provider to inform them about RI options that are aligned with their values, yet only 31% of respondents said their financial services provider had broached the subject. That leaves a significant proportion (42%) of respondents who are interested in RI, but not receiving the services they want.

This "RI service gap" presents a massive business opportunity for advisors who can:
Engage their clients in discussions about their ESG/RI preferences,
Educate them about ESG topics and RI strategies,
Recommend well suited investment options.
With only one-third of respondents saying they currently own responsible investments, the opportunity for financial advisors to help clients "take the leap," remains, for those with an understanding of the options available.
It's clear that the more RI knowledge an advisor has, the better positioned they are to serve their clients' ESG-related needs and narrow the RI service gap. The RIA hosts a biannual ESG Product Knowledge event, where retail advisors looking to meet this opportunity can learn about leading responsible investment products from the portfolio managers and analysts behind them.
Levels of RI knowledge among investors appear to have leveled-off in the past 2 years as well, with 70% of respondents claiming to know little or nothing about RI. In fact, one-quarter of respondents reported they had never heard of it! Yet, the majority of respondents (64%) continue to express interest. While inflation and converging global crises have made for uncertain financial markets, discussing RI remains a highly relevant option. 40% of respondents said they were now more likely to choose RI than one year ago in the context of the current volatile environment, while 44% said they were neither more nor less likely than one year ago. Just 5% said they were less likely than one year ago, and 12% were unsure.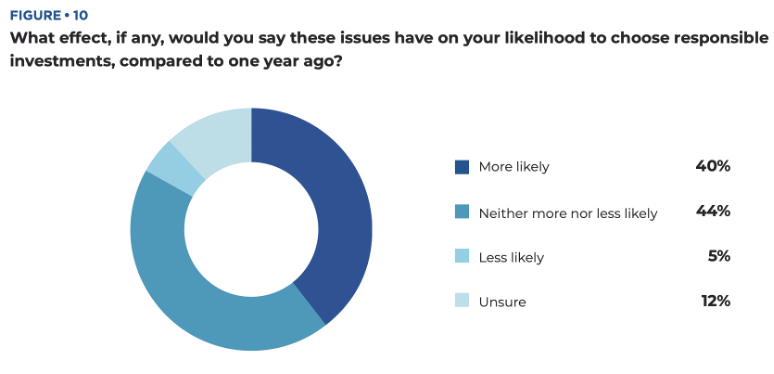 In the news and investors' thoughts
The 2022 United Nations Biodiversity Conference (COP15) in Montréal included the adoption of the "30-by-30" target, a framework requiring countries to work towards conserving 30 percent of the earth's biodiversity by 2030. At the same conference, the International Sustainability Standards Board (ISSB) of the IFRS Foundation announced it will add biodiversity and just transition considerations to its Climate-related Disclosure Standard.
To complement this international activity, the RIA sought to understand Canadian retail investors' views about biodiversity loss, and their expectations for companies to manage biodiversity risk. The majority of respondents, 74%, reported being either very or somewhat concerned about biodiversity loss. Additionally, 68% of respondents agreed that it was either very or somewhat important that companies are committed to preventing biodiversity loss.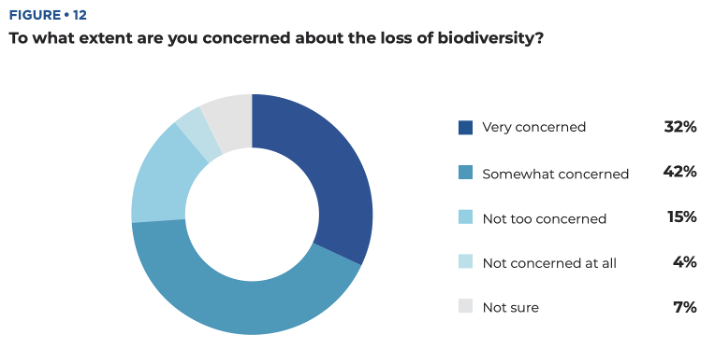 Greenwashing also came to the forefront for the industry in 2022 with highly publicized investigations around misleading ESG claims making headlines, and partisan political backlash against ESG (largely in the US). In previous RIA studies, financial advisors and institutional investors alike cited significant concern over greenwashing in the investment industry.
In 2022, 75% of respondents said they were either very or somewhat concerned about greenwashing, similar to the level expressed in 2021. Meanwhile, 78% of respondents either strongly or somewhat agreed that there needs to be increased scrutiny in the investment industry to combat greenwashing.
The value for financial professionals and their clients
Based on these results, opportunities exist for financial professionals to add value for their clients by starting the conversation about their ESG values, educating them about relevant topics, and introducing them to suitable RI options. Some greenwashing concerns may be alleviated by recent improvements to investment disclosures on funds, which are supported by actions from governments, regulators, and standard-setters. Ideally these measures will help inform the public conversation about RI, and clear the way for greater adoption amongst retail investors.
Finally, 76% of respondents either strongly or somewhat agreed that RI can have a real impact on the economy and contribute to positive change for society. It is our hope that in 2023, the RI industry will live up to respondents' expectations.